Det behøver ikke være besværligt at gøre noget romantisk, eller flot. Du kan anrette de mest simple madvare lækkert. Her behøver du blot en vandmelon og nogle lækre bær.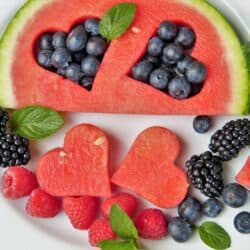 Vandmelon hjerte
SÅDAN GØR DU
Skær vandmelonen i skiver. Derefter skære du forsigtigt med en god kniv to hjerter.
Tag hjerterne forsigtigt op fra vandmelonen og lig dem til side.
Fyld ud hvor du har skåret to hjerter med dine fortrukne bær, og lig de skårene hjerter som ekstra pynt med nogle ekstra bær.