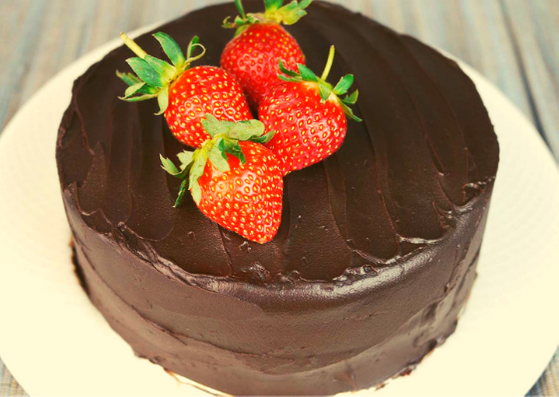 Chokoladekage smager fantastisk, denne kage er også rigtig god som en fødselsdagskage, hvor du kan pynte med lys og slik på toppen. Der er ca. til 11 mand i denne opskrift, så hvis du ønsker chokoladekage til flere mand, kan du trykke på antal ved opskriften og fordoble opskriften, bemærk at du selv skal fordoble selve fremgangsmåden. Du kan også drysse kokos, eller hakkede nødder over kagen, det smager også fantastisk til denne chokoladekage. .
[cooked-recipe id="805"]
(recipe not found or in draft status)


(recipe not found or in draft status)
Fremgangsmåde
1
Ovnen forvarmes til 180 grader alm. ovn.
3
Kakaopulver røres i det kogende vand til en lind masse.
4
Sigt melet og tilsæt bagepulveret i en skål
5
I en anden skål pisker du smør og flormelis til en hvid luftig masse
6
Tilsæt kakaomassen, æg, mel og bagepulver
7
Pisk det hele og vend mandlerne i (hvis du vil have dem i)
8
Fordel så dejen i de to forme, skal du være sikker på de bliver lige store og bliver bagt jævnt, så vej dejen og del den i to lige store dele.
9
Bages i 25-30 min, de skal køle helt af inden du tager dem ud af formen
Glasur
10
Smelt smør og chokolade over vandbad (pas på det ikke bliver for varmt, så skiller den) rør flormelis i ad flere omgange, pisk godt ind imellem. Lad den køle lidt af
Samle kagen
12
Tag bagepapiret af bundene og læg den ene på et fad
13
Kom det meste af flødeskummet på og fordel bærrene
14
Læg den anden bund på og tryg den let sammen, ret kagen op med en kniv.
15
Hæld chokoladeglasuren på, og lad lige kagen sætte sig inden du går igang med den.
16
Pynt kagen med lidt bær på toppen.
Produkter som er brugt i opskriften
Går du op i at bage lækre kager? hvorfor så ikke gå op i udstyret? med disse produkter er du klædt stærkt på, og kan bage den smukkeste chokoladekage. Hos tema-mad.dk kan du finde alt fra springforme, piskeris, kagespader og meget mere. Vi har bageudstyr fra mange kendte mærker, så du nemt kan finde det du står og mangler.